You have the ability to start particular service requests through ICICI Bank in addition to the customer service and toll-free number alternatives. You can submit a service request, for instance, to cancel your credit card, resend a credit card that was never delivered, activate or deactivate physical statements, and more. Your credit card information, the type of request, your mobile number, and your email address will all need to be entered.
You might also need to enter your ICICI Bank NetBanking user ID and password to log in. You will receive a confirmation email after entering the required data or logging in confirming the completion of registering your request. A representative from ICICI Bank will get in touch with you for serious inquiries like credit card cancellations.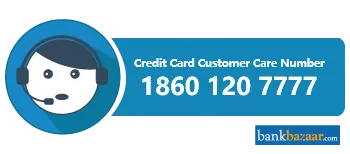 ICICI Credit Card 24*7 Customer Care Number
Use the numbers listed below to contact a customer care executive:
For previously unresolved queries, not more than three months old, dial:
Please note that call charges may be applicable based on the existing tariff plans of your service provider.
About ICICI Credit Card Customer Care
For all your credit card queries and concerns, you can contact ICICI's credit card customer care by using any of the methods mentioned here. You can also contact the customer care centre if you are looking to find the best credit card for you or if you are looking to apply for a credit card as well.
City-Wise Tolled ICICI Customer Care Numbers
You can contact a customer care official in your city by dialling these numbers:
Location
Personal Banking
Corporate Banking
Chennai
044 33667777
044 33446699
Mumbai
022 33667777
022 33446699
Kolkata
033 33667777
033 33446699
Delhi
011 33667777
011 33446699
For Customers travelling abroad
+91-22-33667777
+91-22-3344 6699
ICICI Credit Card Enquiries
In Case of Card Theft: In case your credit card has been stolen or is lost, please report the loss to a customer care official by calling any of the numbers provided above. If you wish, you can request for a replacement credit card during the same call itself.
You can also use the mobile application to block the card or visit your nearest branch to block the use of your card.
Alternatively, you can block your credit card by logging in to your internet banking account.
In Case of Your Card Being Blocked: If your card has been blocked, you must call the customer service line from your mobile phone to get a replacement card. The call must be made between 7:00 am and 9:00 pm. Within five business days of receiving your request, an attempt will be made to provide your replacement card for the first time.
In Case of Card Needing to be Re-Dispatched: You can request a re-dispatch of your card if it was returned to ICICI because it couldn't be delivered by logging into your online banking account or by phoning customer service at any of the numbers listed before.
If you decide to call customer care, ensure that you do so from 7:00 am to 9:00 pm.
Other Ways for NRIs to Get in Touch
International Contact Numbers
From USA
18664242448, 18448858100
From UK
08081314151, 448081754590
From Singapore
800 101 2553, 658003211110
From Canada
18664242448, 18663702533
From Australia
1800936189, 611800318235
Belgium
00-800-4433-2332, 32-80075150
Finland
00-800-4433-2332, 358-800770557
France
00-800-4433-2332, 33-800905384
Germany
00-800-4433-2332, 49-8004000804
Ireland
00-800-4433-2332, 353-1800200455
Italy
00-800-4433-2332, 39-800769423
Luxembourg
00-800-4433-2332, 352-80027809
Netherlands
00-800-4433-2332, 31-8000222642
Portugal
00-800-4433-2332, 351-800450071
Spain
00-800-4433-2332, 34-900876018
From UAE Call on
+971-8000-9114001
From Bahrain
+973-800-04-877
UAE
00-800-0911-4001, 00-800-0183-0173
Bahrain
800 04 877, 97380004854
Hongkong
852800969119, 800969596
Malaysia
601800816205, 1800815078
New Zealand
64800442751
Oman
96880077285, 80078855
Saudi Arabia
9668008500339, 8008501426
Qatar
800101631, 974-800101724
Kuwait
96522059260
Non Toll-free number
+91-22 3914 0422
9am-6pm IST (Monday to Friday)
Toll-free Numbers
9am-11:59pm IST (Monday to Friday)
USA
18339651642, 18448857400
United Arab
Emirates
80001830040, 9718000320807
Singapore
8001014621, 658003211140
United Kingdom
08000291679, 448081754580
Australia
1800976163, 611800324856
ICICI Bank Email Address
Get in touch with ICICI by sending an email to: Customer.care@icicibank.com
Alternatively, you can raise a first-level complaint (i.e., this is the first complaint you are raising with respect to a particular concern), by following these steps:
Navigate to the 'Complaints' section on the 'Feedback' page.
Select 'Email' and fill in the details required.
Use the email ID you have registered with the bank to expedite your complaint.
ICICI Credit Card Grievance Redressal
Level 1 - Registering Complaints
Customers have several options to file their complaints:
You can lodge your complaint by calling the toll-free number at 1860 120 7777.
Complaints can also be submitted by completing the 'Complaint Form'.
Another avenue for registering complaints is by visiting one of our branches.
Level 2 - Resolving Complaints
The respective company leaders are in charge of resolving and concluding client disputes. Branch heads take on this duty for branches that are located abroad.
Level 3 - Escalating Complaints
Customers have the ability to escalate the issue to a higher level if they are still unsatisfied with the response offered through the various channels.
Principal Nodal Officer: ICICI Bank Ltd, Bandra Kurla Complex Mumbai 400051 Email: headservicequality@icicibank.com
Level 4 - Escalating to Regulatory Authorities
If a customer remains unsatisfied with the response from the bank, they will have the opportunity to approach the Banking Ombudsman (BO).
For Demat Account: Complaints regarding Demat Services can be registered by emailing on headdematservices@icicibank.com.
ICICI Nodal Office Contact Details
You can escalate your complaint to the principal nodal officer if you aren't satisfied with the solution you have received from prior channels.
Here are the contact details of the principal nodal officer:
Email: headservicequality@icicibank.com
Address:
The Principal Nodal Officer
ICICI Bank Ltd.
Bandra Kurla Complex
Mumbai 400051
Write to ICICI Bank
Pen down your queries and address it to:
ICICI Bank Limited,
ICICI Phone Banking Centre,
ICICI Bank Tower, 7th floor,
Survey no: 115/27, Plot no.12,
Nanakramguda, Serilingampally,
Hyderabad 500032
Registered office:
ICICI Bank Tower,
Near Chakli Circle, Old Padra Road,
Vadodara 390007,
Gujarat, India
Corporate office:
ICICI Bank Towers,
Bandra-Kurla Complex,
Mumbai 400 051
Other Ways to Get in Touch with ICICI
Via SMS
If you are unhappy with any service at your branch or have a query that is yet to be addressed, SMS 'UNHAPPY' and send it to 5676766.
A bank representative will get back to you within two business days.
Contact the business head
You can also contact the business head for credit cards and personal loans to ensure that your concerns have been addressed adequately:
FAQs on ICICI Bank Credit Card Customer Care
Can I contact customer care to get my credit card statements for income tax purposes?

Yes, you can call customer care to get your credit card statements for income tax purposes. Alternatively, you can download your statement from your internet banking or mobile banking account.

How do I cancel my ICICI credit card?

You can cancel your credit card account by calling customer care or sending an email to customer.care@icicibank from your registered email id. Keep in mind that your card account will be closed only if you have paid all outstanding dues on your card.

What do I do if my credit card isn't working at a point of sales terminal?

In such cases, first, make sure that you have entered the right PIN and that the card has not expired. If there is no problem with regard to the PIN or the expiry date on the card, you can call customer care. Ensure that you place the call anywhere between 7:00 a.m. and 9:00 p.m.

What is the procedure to report a stolen credit card or to block the credit card?

In case your credit card has been stolen, you will need to call the customer care number of the bank immediately so the card can be blocked, and no further transactions can take place. Once done, a replacement credit card will be sent to your registered address within five business days.

Does ICICI Bank have a dedicated customer care service for NRIs?

Yes, the bank gives all non-resident Indians a unique customer service number. The bank's customer service number is 1800 102 5600, and it is available to all NRIs in India for all related inquiries. For all inquiries from persons outside the country, ICICI Bank provides to write an email with their complaint or inquiries to nri@icicibank.com.

How do I change my ICICI credit card PIN?

A functioning PIN is already on your credit card, and it is required for every purchase. However, you can update your PIN by going to any ICICI Bank ATM or via net banking if you so want. You can use your credit card at the nearby ICICI Bank ATM. Choose the 'Change PIN' option and enter your current PIN. Enter the PIN you choose, and it will take effect for all future transactions.

How can I change my credit card limit?

The credit card limit is assigned to you based on various factors such as your credit score, credit utilization ratio, etc. However, you can request for the current limit to be changed. To request for an increase or decrease in the limit, you can call the customer care number of the bank or log in to your net banking account and request for a change in the credit limit of your card.
.