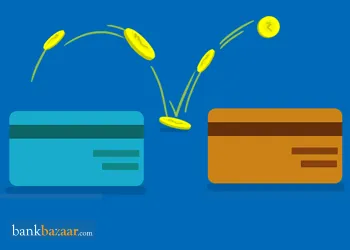 Credit Card Balance Transfer
Before you start thinking of going in for a balance transfer, you need to first know what a credit card balance transfer actually means. To put it in the simplest of terms, balance transfer in credit cards means that you transfer the amount you owe on one card to another card. By doing this you actually end up paying for the first card and owe that amount on the other credit card. One main reason why someone might go in for a balance transfer could be that the other card offers lower interest rates which would mean it would be cheaper to pay it back through the other card.
List of Credit cards that Offer Balance Transfer
There are many banks that offer credit cards that have balance transfer facilities available on them. Some such banks are:
Comparison of Credit Card Balance Transfer Offered by top Indian Banks
Here is a table that depicts and compares the credit card balance transfer features offered the topmost credit card issuers in India.
Axis Bank
1% of transfer amount or Rs.199, whichever is higher
0%
3 months
State Bank of India
2% of transfer amount or Rs. 199 whichever is higher if the period is 60 days and zero if the period is 6 months
0%-1.7%
60 Days-6 Months
Standard Chartered Bank
NA
0.99%
6 Months
Punjab National Bank
Rs.172 or more depending upon the transfer amount
0.99%
6 Months
Kotak Mahindra Bank
Rs. 349 per Rs. 10000
0%
NA
HSBC (Convert due payment to EMI)
1% (minimum Rs. 149)
0.99% for tenures between 3-12 months 1.25% for tenures 18 months and 24 months
3,6,9,12 months
How to Transfer Balance from one Credit Card to Another?
Credit card balance transfer is the best option to pay off huge and pending credit card bills. However, transfer of credit card balance makes sense only when the bank that you are transferring your balance to offers rates that are more lucrative than the original credit card on which you have pending dues.
The most important point to note about credit card balance transfer is that you can transfer only that amount to your new credit card which is within its credit limit. So, if your second credit card has a limit of Rs.50,000 and your pending dues from previous credit card are Rs.75,000, then only Rs.50,000 can be transferred to the new credit card under the balance transfer scheme.
There are forms which various banks furnish to facilitate application of credit card balance transfer facility. The following information needs to be furnished while applying for credit card balance transfer.
Credit Limit
Expiry date of the credit card
Outstanding credit amount
Credit card number
Most banks require a few documents to be furnished in order to accept your request for credit card balance transfer.
Credit card photocopies
Last 3-6 credit card bill statements
Address proof
The most rewarding feature of credit card balance transfer is that the entire pending amount gets paid in the form of a demand draft that is issued by the new credit card company towards your old credit card. This saves you the burden of additional interest payment on the credit card pending bill.
The interest now that you will pay will be decided by your new credit card. Generally, the interest charged to avail credit card balance transfer facility is less than what is charged by banks on credit card pending bills. However, this lowered rate of interest is only applicable for a specific period of time after which standard interest rates apply. Thus, it is crucial to pay off your credit to the new credit card issuer within the stipulated time in order to avoid hefty interest rates.
Important points to Remember while using Credit Card Balance Transfer
No matter how convenient and lucrative credit card balance transfer sounds it is always a good practice to know all important aspects of it before availing the same. Listed below are some points that significantly affect your decision of availing credit card balance transfer to pay off your existing credit card debt.
Availing credit card balance transfer reduces your credit limit in the same proportion. For example, if your have a credit card limit of Rs.75,000 and you have transferred a balance of Rs.50,000 then the effective credit limit available to you for all other credit card transactions is just Rs.25,000.
The best way to use credit card balance transfer is to pay off all your dues within the free or nominal interest rate period. After this, standard credit card interest rates apply which require higher payments to be made.
The lower interest rate for credit card balance is not applicable to new purchases that you make on your credit card. These transactions fall under standard interest rates offered by the credit card issuer.
Balance transfer is generally offered to customers who have been a credit card user for one particular company for at least a year. This is to ensure that credit holders do not keep hopping from one credit issuer to another in order to avail lower rates of interest.
While you still may have credit left after transfer of previous credit card balance, it is always a good strategy to refrain from using your credit card until all balance transfer payments are paid and all subsequent charges are cleared.
Key Benefits of Credit Card Balance Transfer
Credit card balance transfer is a very popular and convenient feature of credit cards. This options helps cardholders get out of circular debt cycles that keep growing worse due to compounding rates of interest. Let us look at some of the most striking benefits of credit card balance transfer.
Helps you save on the extra interest amount that you end up paying as a result of accumulated and pending credit card bill
Convenient way to get rid of accumulated credit card debt as compared to other means of paying back credit
Quick processing for balance transfer makes it easy for customers to avail and get rid of their pending dues
Debts from one or more cards can be transferred when making use of credit card balance transfer feature
A buffer time is allocated to cardholders to pay off their outstanding amount. This period has zero rate of interest or a very nominal rate of interest
When you do go in for a balance transfer, you will need to keep a few things in mind. The first being that some banks will offer this facility only if the balance being transferred is for a credit card not issued by them. Most banks don't pose any restrictions on the type of card for which balance transfers are being availed.
There may also be conditions that govern the minimum and maximum amounts that can be transferred. All conditions and rates mentioned here are decided by the banks and could change at any time so it would be best to confirm the same with the bank before actually applying for balance transfer.
FAQs on Credit Card Balance Transfer
How will I know if I should go for credit card balance transfer facility?

If you have an existing credit card with balance being charged a high rate of interest then it is advisable to go for credit card balance transfer to save up on interest payment.

How much amount can I transfer to the new credit card?

You can only transfer an amount equal to the credit limit of the new credit card. For example, if the outstanding credit card balance on your existing credit card is Rs.75,000 and your new credit card has a credit limit of Rs.50,000 then only Rs.50,000 can be used for transferring balance. Rest needs to be paid by the you out of your own pocket.

Is balance transfer helpful?

How profitable is balance transfer for you depends upon the interest that you are currently paying on our existing credit card versus the rate of interest plus charges being charged by the new credit card. If the difference is substantial then you will surely save some extra money that you might be paying as interest amount.

Does credit card balance transfer take a long time to process?

No. Credit card balance transfer is a quick and almost hassle-free process. The time taken usually is a few days and varies from bank to bank.

How many times can I transfer my credit card balance?

It isn't a good idea to keep transferring your credit card balance. And banks too do not entertain constant balance transfers. As such the number of times you can transfer your balance is a subjective thing which is purely at the discretion of the bank you have in mind.

What kind of benefits can one get with FinBooster: YesBank - BankBazaar Co-branded Credit Card?

FinBooster: YesBank - BankBazaar Co-branded Credit Card offers numerous benefits like fuel benefits, insurance benefits, reward points benefits, etc to its customers