As a Karnataka Bank credit card holder, you can have your concerns addressed by contacting the bank's customer care executives.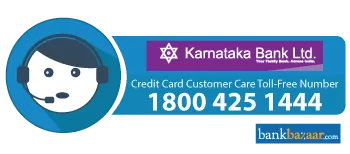 Karnataka Bank Credit Card 24*7 Toll-free Number
Karnataka Bank Credit Card Customer Care Toll-Free and Tolled Numbers
Contact the bank's customer care service centre by calling:
Note: If you are planning to call the customer care office, ensure that you do so between 10:00 a.m. and 5:00 p.m.
Karnataka Bank Key Offices Contact Numbers (City-Wise)
Karnataka Bank has a number of branches in India, however, here are the contact details of key offices of the bank:
Bengaluru
D No. 109, Bull Temple Road Bengaluru-560 019 Karnataka
(080) 22955800 22955807 22955819
bangalore.ro@ktkbank.com
080-22245034
Chennai
Karnataka Bank Building, No. 324 1st Floor, Thambu Chetty Street Chennai-600 001 Tamil Nadu
(044) 23453220 23453223 23453220
chennai.ro@ktkbank.com
044-23453224
Delhi
Plot No.8-B, First Floor Rajendra Park, Pusa Road New Delhi-110 060
(011) 25717248 25717244 25718155
del.ro@ktkbank.com
011-25726096
Hubballi
P.B.No. 499, CTS. 122/108 2nd Floor, Neeligin Road New Cotton Market, Hubballi-580 029 Karnataka
(0836) 2216050 2216017
hubli.ro@ktkbank.com
0836-2350109
Hyderabad
Plot no 50, 1st Floor Road no 3, Srinagar Colony Banjara Hills, Hyderabad - 500 073 Telangana
(040) 23732072
hyderabad.ro@ktkbank.com
040- 23732074
Kolkata
First Floor, Office no.111 Diamond Prestige 41A, AJC Road Kolkata-700017 West Bengal
(033) 22268583
kolkata.ro@ktkbank.com
033 - 22268588
Mangluru
P.B.No. 746 Door No. 13-10-1271 Karnataka Bank Building Kodialbail Post Mangaluru-575 003 Karnataka
(0824) 2229826 2229827
mangalore.ro@ktkbank.com
0824-2229829
Mumbai
2nd Floor, 'E' Block 'The Metropolitan', Plot No. C26 & C27 Bandra-Kurla Complex Bandra(E), Mumbai-400 051 Maharashtra
(022) 26572804 26572813 26572816
mumbai.ro@ktkbank.com
022-26572819
Mysore
PB-15, #561, Karnataka Bank Building New Kantharaje Urs Road Kuvempunagar Mysuru-570 023 Karnataka
(0821) 2417570 2343310 2543320
mysore.ro@ktkbank.com
0821-2545639
Shivamogga
Karnataka Bank Building P.B.No. 132 1st Floor, Savalanga Road Shivamogga-577 201 Karnataka
(08182) 227003 229385
shimoga.ro@ktkbank.com
08182 - 227002
Tumkur
First floor, Siddashree Bhavan No.364 A, Ward no.19 Siddaganga Extension, B.H. Road Tumakuru-572102 Karnataka
(0816) 2294901
tumakuru.ro@ktkbank.com
Udupi
Shantha, 2nd floor Kinnimulki Udupi Karnataka
udupi.ro@ktkbank.com
chennai.ro@ktkbank.com
Ahmedabad
'The First', B-705, Behind Keshavbaug Party Plot Off. 132Ft. Road Vastrapur Ahmedabad - 380 015 Gujarat
(079) 29702793
ahmedabad.ro@ktkbank.com
Kalaburagi
'Om Complex', Balaji Nagar, Near Rajiv Gandhi College Road, Old Jevargi Road Kalaburagi - 585 102 Karnataka
(08472) 227441
kalaburagi.ro@ktkbank.com
Karnataka Bank Credit Card Enquiries
Do you have some of these common credit card related questions? Well, let's make it easier for you by answering them.
In Case of Card Theft: If your credit card is stolen or goes missing, please report the loss to customer care. You can do so by calling either the toll-free or the tolled number provided earlier.
Since both the credit cards offered by Karnataka Bank are in collaboration with SBI, you can also call SBI credit card customer care. Here are the numbers for your reference:
Alternatively, if you are a registered SMS banking customer, you can send the bank an SMS from your registered mobile number. Just type 'BLOCK [last 4 digits of your card]' and send it to 5676791.
In Case of Your Credit Card Being Blocked: If your card has been blocked, you will have to request for a replacement credit card.
Karnataka Bank Credit Card Customer Care International Helpline Details
Other overseas branches you can contact are:
Bangalore
No. 3, Manandi Plaza St. Marks Road Bengaluru-560 001 Karnataka
(080) 22955886
blr.osb@ktkbank.com
Kolkata
1st Floor, "Shubham" No.1 Sarojini Naidu Sarani Near Mallick Bazar Park Street, Kolkata – 700 017 Kolkata District West Bengal
(033) 22831611 22831619
calcutta@ktkbank.com
Mumbai
104, 105, 106, Embassy Centre Jamnalal Bajaj Marg Nariman Point Mumbai-400 021 Maharashtra
(022) 22822533 22885017
bom.overseas@ktkbank.com
New Delhi
8-B Upper Ground Floor Rajendra Park Near Rajendra Place Metro Station Pusa Road New Delhi-110 060 Delhi
(011) 25717720 25717721
del.overseas@ktkbank.com
Karnataka Bank Email Address Details
Send your feedback, complaints, suggestions, or queries via email to: info@ktkbank.com
Karnataka Bank Credit Card Grievance Redressal
For all complaints, your first point of contact should be the bank's customer care centre. You can call, write to, or email your query to Karnataka Bank's customer care executives.
If the response you have received is not satisfactory, you can follow these steps:
Approach the branch head.
If the solution provided by the branch head is not satisfactory, visit the bank's regional office. The address and contact details have been provided earlier under the 'Key Office Contact Details (City-Wise)' section of this page.
The solution provided by the regional head is not to your liking, then feel free to approach the bank's head office. Here's the address:
Chief Manager,
Karnataka Bank Ltd.
Customer Service & Grievance Redressal Cell
Head Office, Mahaveera Circle
Kankanady, Mangaluru
Karnataka
Karnataka Bank Nodal Officer Contact Details
If you wish to contact the bank's nodal officer, here are their contact details:
Principal Nodal Officers
Shri Gokuldas Pai (For Karnataka)
P.B.No.5171, 3rd Floor, Mohan Mansion, Kasturba Road Bengaluru-560 001 Karnataka
Office: 080 22955807 Mobile: 9481737715 Fax: 080 22245034
bangalore.ro@ktkbank.com
Shri Ranganatha
M-13, (A), Punj House, 1st Floor, Connaught Circus New Delhi-110 001
Office: 011 23411588 Mobile: 8860661464 Fax: 011 23416096
del.ro@ktkbank.com
Shri Ravichandran S
P.B.No.1878, No.324, Karnataka Bank Building Thambu Chetty Street Chennai-600 001 Tamil Nadu
Office: 044 23453221 Mobile: 7045652971 Fax: 044 23453224
chennai.ro@ktkbank.com
Shri Rajakumar P H
2nd E Block, The Metropolitan Bandra Kurla Complex Bandra East Mumbai-400 051 Maharashtra
Office: 022 26572742 Mobile: 9483049504 Fax: 022 26572819
mumbai.ro@ktkbank.com
Shri Anil E Moras
1st Floor, 8-3-1084/1 Srinagar Colony, Banjara Hills Hyderabad-500 073 Telangana
Office: 040 23732076 Mobile: 8008143162 Fax: 040 23732074
hyderabad.ro@ktkbank.com
Shri Vadiraj K A
1st Floor, Office no 111, Diamond Prestige 41A, AJC Boase Road, Kolkata-700 017 West Bengal
Office: 033 22268581 Mobile: 9903973264 Fax: 033 22268588
kolkata.ro@ktkbank.com
Nodal Officers
Shri Madhava V P
P.B.No.499, CTS-122/108 2nd Floor Neeligin Road, New Cotton Market Hubballi-580 029 Karnataka
Office: 0836 2354946 Mobile: 9945988288 Fax: 0836 2350109
hubli.ro@ktkbank.com
Shri Ramesh Bhat
P.B.No.746, D.No.13-10-1271 Karnataka Bank Building, PVS Road Kodialbail Post Mangaluru-575 003 Karnataka
Office: 0824 2229825 Mobile: 9740835300 Fax: 0824 2229829
mangalore.ro@ktkbank.com
Shri Jagadeesh K S
P.B.No.15, #561, New Kantharaje Urs Road Kuvempunagar Mysuru-570 009 Karnataka
Office: 0821 2343062 Mobile: 9449595536 Fax: 0821 2545639
mysore.ro@ktkbank.com
Shri Nagaraja Aithal
P.B.No.132, Karnataka Bank Building Savalanga Road Shivamogga-577 201 Karnataka
Office: 08182 227001 Mobile: 9449595464 Fax: 08182 227002
shimoga.ro@ktkbank.com
Shri Ravikumar D E
First floor, Siddashree Bhavan No. 364 A, Ward No. 19 Siddaganga Extn, B.H. Road Tumakuru–572102 Karnataka
Office: 0816 2279058 Mobile: 9480842313
tumakuru.ro@ktkbank.com
Smt Vidyalaxmi R
Shantha, 2nd floor Kinnimulky Udupi–576101 Karnataka
Office: 0820 2524533 Mobile: 9880004919
udupi.ro@ktkbank.com
Write to Karnataka Bank
You can have your queries addressed by writing to the bank. Your letters need to be addressed to:
Customer Care Centre
#111 Hafeeza chambers, 3rd Floor
K H Road Bangalore-560027
Karnataka
Other Ways to File a Complaint with Karnataka Bank
You can also submit a complaint online. All you need to do is navigate to the 'Customer Service Cell' page and submit your complaint or feedback.
Keep the following information handy if you wish to use this portal to submit a complaint:
Email id
Registered mobile number
16-digit Karnataka Bank account number
Once you submit a complaint, you will receive a ticket number. This number can be used to track the status of your complaint.
If none of these methods help you in solving your query or providing an adequate solution to your problem, you can contact the banking ombudsman. The ombudsman is appointed by the Reserve Bank of India to help customers who have faced problems while trying to address a problem with their bank.
FAQs on Karnataka Bank Credit Card Customer Care
Can I write to Karnataka Bank Bangalore branch?

Yes, you can write to Karnataka Bank Bangalore branch at bangalore.ro@ktkbank.com

How do I reach the Hyderabad branch of Karnataka branch?

You can reach the Hyderabad branch of Karnataka branch by calling (040) 23732072.

How do I block my Karnataka Bank credit card?

If you are a registered SMS banking customer, you can send the bank an SMS from your registered mobile number. Just type BLOCK [last 4 digits of your card] and send it to 5676791.

Can I post a letter to the Karnataka Bank?

P.B. No. 11517, 107-109, 1st Floor, Raheja Centre, Free Press Journal Marg, Nariman Point, Mumbai 400 021, Maharashtra

Who do I write to for raising a complaint with Karnataka Bank?

You can write to info@ktkbank.com