Home loan EMIs (equated monthly instalments) can put severe stress on your monthly budget if you don't have a proper plan chalked out. Remember that your loan amount, the interest rate on your loan, and the loan tenure are the primary determinants of your monthly instalment. At times, due to poor planning, you may end up paying more against your loan.
So, if you're planning to take a home loan or already have taken one, then consider these 7 essential tips to reduce the interest payable.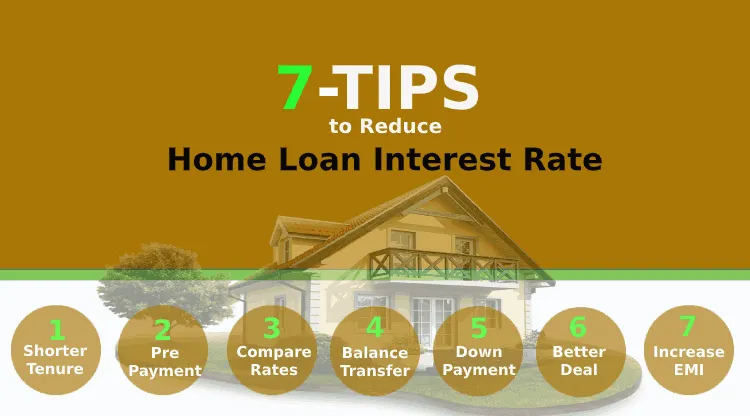 1. Go for a Shorter Tenure
As mentioned earlier, your loan tenure is one of the primary factors responsible for the interest you are supposed to pay. Though longer tenures say 25 to 30 years, will cut down the monthly instalment amount, shorter tenures, say 10 to 15 years, will help reduce the overall interest payable. You can see for yourself how the interest gets reduced drastically for loans with shorter tenures by using a home loan EMI calculator. So, before you sign up for a loan, choose the tenure carefully so that you don't end up paying higher interest against your loan.
2. Prepayments Are a Good Option Too
Lenders don't charge prepayment or loan foreclosure charges on floating rate loans. So, if you have signed up for a loan, try to make prepayments from time to time. That's because, during the first few years of your loan, you pay more towards the interest compared to the payments made toward the principal amount. Making frequent prepayments will substantially bring down the principal amount, thereby reducing the total interest. However, note that lenders do charge a certain percentage on fixed rate loan prepayments. So, it's advised to check with your bank/lender to know the prepayment charges that you may have to incur.
3. Compare Interest Rates Online
It's necessary that you do proper research on loan products and compare rates before deciding on a particular product or lender. There are several third-party websites that can give you a clearer picture of the rates and other charges levied by different lenders. So, it's best you compare the home loan interest rates for all banks first and then decide on a particular bank or home loan product.
4. Home Loan Balance Transfer Can Be an Alternative
Balance transfer comes into the picture only when you have already started making prepayments against your loan. If you feel that the interest rate charged by your current lender is a bit on the higher side, you can transfer the remaining principal amount to another bank or lender at lower interest rate. However, balance transfer should be your last resort. Any missed payments on balance transfer-based loans invite higher penalties. So, go for home loan balance transfer only if you have no other option left.
5. Pay More as Down Payment
Most banks and other financial institutions finance 75% to 90% of the total value of the property. You are required to contribute 10% to 25% of the remaining cost of the property. However, instead of paying the least, it's better to contribute more from your pocket as down payment. The higher you pay initially, the lower is the loan amount, which directly reduces the interest you have to pay as well.
Check Out: Zero Down payment Home Loan
6. Look for Better Deals
It's a known fact that lenders prefer customers who have a good credit history. Banks often roll out preferential rates for existing customers or those having a good credit history. So, if your score is close to 800, you may get better rates on your loan. So, if you have been a responsible borrower and have made all your repayments on time, chances are you will be offered lower rates on your loan. If not, you can negotiate with the concerned lender provided you have a good business relationship with the lender. Other than that, keep a close eye on festive offers. Banks often lower their interest rates during festive seasons.
7. Increase your EMI
There are lenders who allow you to revise your instalment annually. So, if you have switched your job with a higher salary, you can always go for higher EMIs to reduce the tenure. And once the tenure is reduced, the overall interest that you have to pay against your loan will come down substantially. Check with your lender whether they provide such options.
Consider these factors before or after taking your home loan to reduce the burden of interest. Make sure to read the terms and conditions and other fees and charges of your lender before signing up.
Read Next: 6 Ways to Reduce Home Loan EMI