Paytm Payments Bank IFSC Code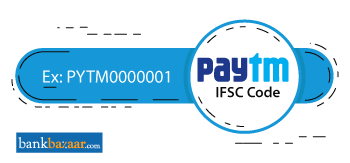 Paytm Payments Bank IFSC Code is a 11-digit alphanumeric code that is mainly used for all types of online fund transfers. This feature is mainly used to send money to bank accounts through the digital payments bank account via a smartphone. The Paytm Payments Bank IFSC Code 'PYTM0123456' can also be used by a customer to add money from another bank account to the Paytm Payments Bank Savings account. Money transfers can be initiated through IMPS or NEFT. The first four characters 'PYTM' represents the name of the bank and the 5th number, which is 'zero,' is reserved for use in the future.
How to search for Paytm Payments Bank IFSC & MICR Code
Paytm Payments Bank IFSC Code can be found online or by contacting customer care. This information is available on a number of third party websites. Magnetic Ink Character Recognition Code is usually used by banks to clear cheques in a more organised and error-free manner. BankBazaar is one such website where IFSC and MICR codes of all banks can be found. This can be found on the IFSC main page.
Paytm Payments Bank
Paytm Payments Bank is a digital banking service app that comes with zero balance requirement, free online transactions and a digital debit card. The service can be used by downloading/upgrading to the latest version of the Paytm app. Initially, customers will have to request for an invite to open a bank account with this payments bank. Customers will be eligible to open a Savings Account or a Current Account with no service fee or account opening charges and earn interest on the same. The mobile wallet company received a nod from the Reserve Bank of India (RBI) to launch the payments bank service. The digital payments bank service is available on both Android and iOS platforms. It is very easy to set up an account and access all bank information, including bank statements, etc. The aim is to set up a new banking model and encourage financial inclusion.
How to Open an Account in Paytm Payments Bank
Opening a Paytm Payments Bank account and registering for the service is a simple and easy process that can be done in a couple of minutes. Customers will have to download or upgrade to the latest version of the Paytm app. Those who do not have one will have to download the app.
Step 1: Download the Paytm app or upgrade to the latest version on Android or iOS platform
Step 2: Launch the app, go to the 'Profile' section or 'Passbook' section and go to open bank account
Step 3: Choose an appropriate password and select a nominee
Step 4: Proceed to fill in nominee details
Step 5: Enter Aadhaar card and PAN card details. This will be followed by residential address verification
Step 6: Post the address verification process, a Paytm Payments Bank account will be activated
Benefits and Features of Paytm Payments Bank account
Zero balance account: Unlike other bank accounts, this payments bank app will allow customers to maintain a zero balance account. There is no minimum balance requirement in this type of bank account. However, the upper cap for the amount of money that can be held in the payments bank is Rs.1 lakh.
Attractive interest rate: Customers can also avail the benefit of earning interest on their Paytm Payments Bank account.
Complimentary Rupay debit card: All users will also be eligible to get a Rupay debit card that can be used to withdraw money at ATMs. The card will be issued without any processing charges.
No charges for NEFT, IMPS: One of the other benefits of this service is that there will be no transaction charges for online money transfers. The service is completely free for all customers.
Cheque book, online passbook: Apart from other offers and benefits, Paytm will also issue customers a cheque book. An online passbook facility will also be provided and along with this bank statements will be mailed to the customer for free.
Can pay utility bills: All utility bills, namely electricity or mobile recharges, can be paid through this app without any hassle.
How to Pay Merchants at Stores Using Scan Code
Step 1: Open the Paytm app
Step 2: Click on the Pay or Send option after which the camera will open for scanning
Step 3: Scan the merchant code, write a remark stating why you are sending money. This is optional
Step 4: Key in the amount that has to be paid and click 'Pay'
Step 5: A confirmation SMS will be sent
How to Send Money Using Paytm Through Mobile Number
Step 1: Open the Paytm app
Step 2: Click on Pay or Send and choose the mobile number option
Step 3: Enter the mobile number of the payee/beneficiary. This can be done by tapping on the contacts
Step 4: Key in the amount of money to be sent and click 'Send'
Step 5: A confirmation message will be sent to the payee
How to Make a Payment Using Paytm Payments Account
Funds can be transferred from Paytm Savings Bank account to other bank accounts. To do so, just go to the 'Transfer Money' option and follow instructions.
How to Add Money to My Paytm Wallet
Step 1: Open the Paytm app, click 'add money' and select 'wallet'
Step 2: Key in the amount you want to add
Step 3: Go to 'Saved Cards' and choose the 'Rupay Card'
Step 4: Key in CVV and click 'Proceed to Pay'
How to Add/transfer Money to Paytm with UPI
Step 1: Open the Paytm app, click 'add money'
Step 2: Key in the amount you want to add
Step 3: Go to 'payment selection' and select UPI
Step 4: Key in the VPA. Approve the collect request in your UPI app. Payment will be confirmed.
How to Send Money from Paytm Wallet to Bank Account
Step 1: Open the Paytm app
Step 2: Click on Pay or Send
Step 3: Choose the 'Send to Bank' account
Step 4: Enter beneficiary/payee details such as account number, IFSC code and enter the transaction amount and click 'Send'