Fincare Small Finance Bank IFSC Code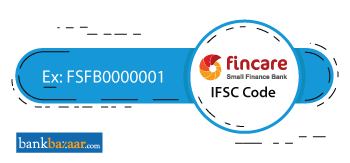 Fincare Small Finance Bank IFSC Code is mandatory for RTGS, IMPS and NEFT transfers. Indian Financial System code, abbreviated as IFSC, is a very important element in the banking system. This unique 11-digit alphanumeric code is alloted to each Fincare Small Finance Bank by the Reserve Bank of India (RBI).
The IFSC code for the Fincare Small Finance Bank branch in Sarjapur Road at Bengaluru, Karnataka is FSFB0000001. To understand more about how this code works, let us look into each digit. The first 4 characters 'FSFB' stands for the title of the bank and the 5th digit is 'zero', is kept aside for future use. The following digits, '000001' denotes the branch concerned.
How to Search for Fincare Small Finance Bank IFSC & MICR Code
Both IFSC and MICR codes can be found online at the click of a button. The information can be looked up on a number of third-party websites.
Typically, IFSC code is printed by the bank on the cheque leaf that is issued to the account holder. MICR codes too are easy to find. For example, the MICR code for the Fincare Small Finance Bank in Bangalore at Sarjapur Road is 560775002.
BankBazaar is one such website where information about bank IFSC and MICR codes can be found. This information can be found on the IFSC main page, where the user will have to fill in data in the drop down menus that are displayed.
How to Send Money using Fincare Small Finance Bank IFSC Code
Money can be sent using IFSC code without any hassle through IMPS, RTGS and NEFT. To initiate a money transfer request, the following information will be required:
Account number of the beneficiary/payee
IFSC code
Bank branch
Type of account held and name of payee as mentioned in the bank account
Immediate Payment Service (IMPS)
IMPS is one of the most preferred forms of money transfer because the funds reach the payee in a matter of minutes. Apart from this, the other advantage is that this service can be availed on all 365 days in a year, including holidays.
Real Time Gross Settlement (RTGS)
RTGS is a type of fund transfer system where the money reaches the payee in 'real time'. This mode of payment is prefered generally because of the speedy nature of settlement when compared to NEFT.
National Electronic Fund Transfer (NEFT) NEFT is also a country-wide system of sending and receiving money. Here, money transfers are settled in certain hourly batches by banks. The service will not be available outside working hours and bank holidays.