Emirates NBD IFSC code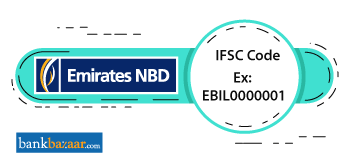 Emirates NBD is a UAE-based bank with branches in India. Emirates NBD IFSC code is used for online fund transfer transactions via NEFT, RTGS and IMPS. This code is assigned to all banks in India by the Reserve Bank of India (RBI) and helps make the fund transfer process easy, seamless and error-free. Emirates NBD Indian Financial System Code is an alphanumeric code that is made up of 11 characters.
Each NBD branch has a distinct code and never will two bank branches have the same one. For example, the Emirates NBD IFSC code for the Rtgsho branch in Mumbai, Maharashtra is EBIL0000001. Here, 'EBIL' stands for the name of the bank and zero, which is the 5th digit, is reserved for future use. The remaining 6 digits, which is '000001', denotes the concerned bank branch which is in Mumbai.
IFSC code is very crucial and it is very important to key in the accurate code. If not, banks will not process or authenticate fund transfer requests, or worse, the money may get accidentally credited to some other account.
How to Search for Emirates NBD IFSC and MICR Codes
It is very easy to look up for information related to IFSC and MICR codes. MICR, stands for Magnetic Ink Character Recognition, and helps speed-up the cheque clearing process. Information on MICR and IFSC codes can be found online and on a number of third-party financial websites.
BankBazaar is one such website where such information can be obtained. To find out information about a specific bank IFSC or MICR code:
Log on the BankBazaar website
Go to the IFSC main page and fill in the required information such as bank name, branch, etc
Once the information is provided, the IFSC code of the bank, along with the MICR code, address and phone number will be displayed
How to Send Money using Emirates NBD IFSC Code
Money can be sent through internet banking by providing the following details:
Payee/beneficiary name and account number
IFSC code and branch name
Type of bank account